Isn't it handsome? I certainly think so, this is the table display for the signing event in the smallest of the three stores. In less than a week, Wayne Thomas Batson will be there from 5-8pm will be there and we will be having an awesome time, despite Bryan Polivka not being able to make it. I have had a dozen problems with this particular event everything from having to revamp the signs to props not showing up at the right time to people not sure that they could make it. There is always cost involved when the store does something like this and I take quite a bit of risk myself telling the owner that it will be fun and profitable. This first signing I'm not too worried about, it's kinda in Wayne's back yard and even the fans with books are going to be coming out to say hi to him, play with the props and revel in the pirate decor. He's going to do a reading from Isle of Fire if we get enough of a turn out and I have some door prizes for those that show up too. Not to mention pirate trivia that we'll have posted and did I mention the props? Yeah, it's going to be a fun time. I sure would love some prayer from you all though, it's been probably the roughest event I've put together to date. Here are some of the others snaps from around the store advertising the event.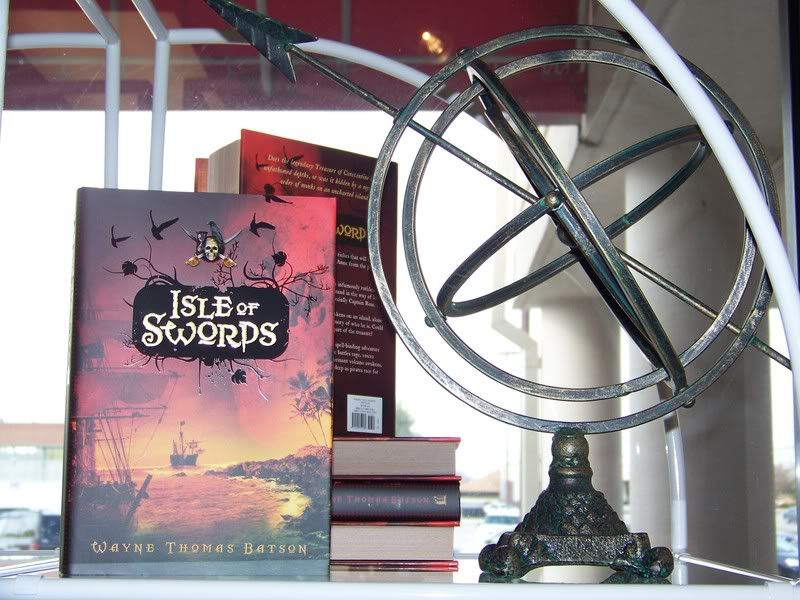 That's the front window there, the photo taken from the inside looking out and beside the most awesome Isle of Swords is an early birthday present for me. The rings actually rotate within one another as well as collapse nearly flat. This is the first rotational globe that I've seen which is able to swing and change its' presentation as well as being reasonably priced. Mom bought it while I was drooling over it and then said she thought it would be cool to have as a prop for the signing so would I like it early? I said yes, yes please!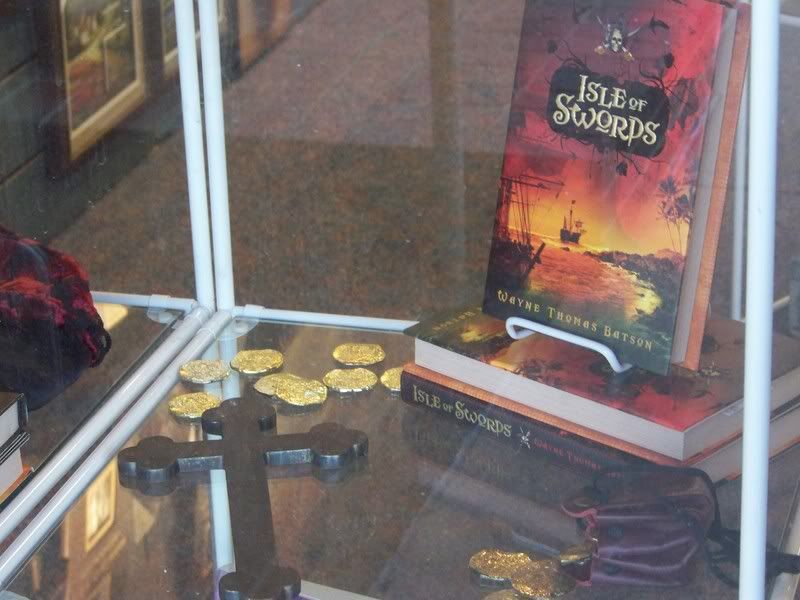 This is from the outside (ignore the dirty window please) looking in at the display. The glare is rather horrible but I am extremely proud of that iron cross there which usually hangs in my room. I thought it did very well to represent the monks in the book which might have had something that plain hanging on the walls in their cells. The gold coins have been a real big hit and everyone wants one. They are cool. Theyappear to be metal until you pick one up and see the minor imperfections and feel the weight of it, then you know it's plastic. The pouch my brother brought back for me from Jamacia when he was there on his missions trip years and years and years ago.

See? Being a pack-rat pays off.







This is the wall behind the front counter, and that ships wheel is mine, it hangs on my wall when not in use as a prop for the signing and the lamp over there is also from my personal collection, purchased to be used as a bookend from Tuseday Morning (TM) for $9.00 on clearance. I liked the nautical look of it, and it feels substancial when you pick it up. Look at all those lovely jewel toned books. They are so reasonably priced in paperback too, just $9.99 retail. And, see those glorious seals? Yup, lost chapter editions.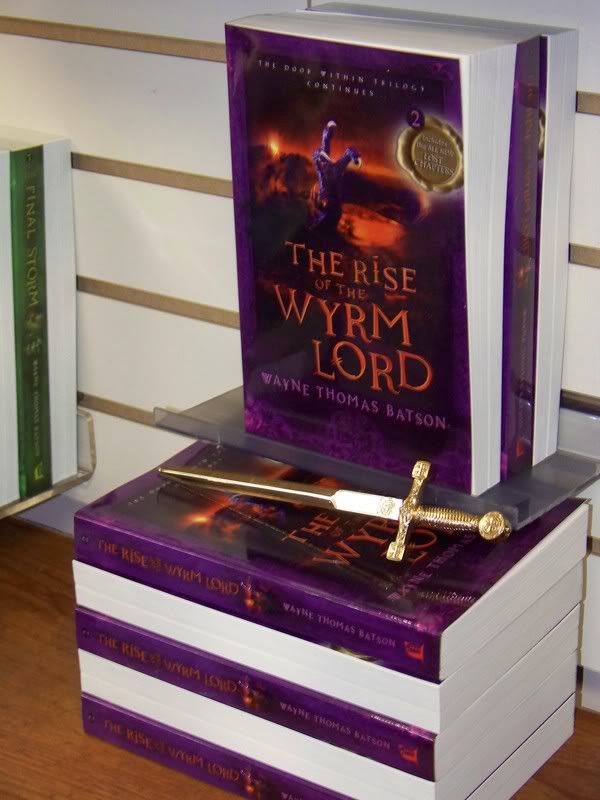 This is the last photo for tonight, but I had to include it because it's The Rise of the Wyrm Lord that for whatever reason didn't get the cool colored print in the paperback edition and yet the cover is my favorite. Why? Because of all the action taking place there, and I can remember when Wayne did a talk at the local library and had the cover art for we fans to look at and I was so disappointed. On the orginal cover there were these horrid red cat eyes in the cave that made it look so weird and out of proportion and really really B-movie like and then, through the careful words of the Capt'n the art got changed and I was sooooo happy! So, I had to put the little letter opener on it and take a picture.




In conclusion, I would ask that you pray, and pray hard for this week for me and for my store. I am not asking the Lord for number, though that would be cool, and I'm not asking for sales, though that would make my job easier. I'm asking specifically that the Lord open the eyes of the owner and the various managers to the fact that there is a hunger for these type of events, and also that every last person that shows up be blessed by the event in one way or another. Book sales and $$$ are great, but I can't take them into eternity with me. They're props, staging, like the items I used to set up for the event and one day they will be gone. The people who come to the event, they are the real treasure, and they are the eternal beings that will spend all of forever with Christ, or without Him.