Today I'm afraid I didn't pray as much for the Fantasy Four Fiction Tour as I would have liked, mainly because I was stuck at work with the air conditioning not working at all, and the temperature hovered between 85 and 87 degrees even with two fans going full bore. It was truly the worst eight and a half hours of my time working there. So, I wound up praying for myself most of the day, that I wouldn't kill my co workers, that I wouldn't slaughter the customers, and that I would be professional and composed as well as get work done.

However, enough about today, most of you have been bugging the stuffing out of me about Saturday so here goes.

I rolled into work at four o'clock, with my paper cutter and stack of paper in hand to join my two co workers behind the front counter in the last of the projects. They were working on sticking down the last of the 'follow the swords to the authors' the manager had made and so I set down my things and started chopping up paper. That's how we kept track of people bring in books to be signed, and separated them from the people who were coming in book less and wanted to buy books and have them signed. Those brought in had a piece of decorative paper tucked in their pages, and the bought ones had the receipt taped to the front of the book.

Around 4:45 we switched the music in the player to all instrumental stuff (Sound track to The Lion, The Witch, and the Wardrobe, followed by Lights of Madrid, followed by the Sound Track to The Last Sin Eater) and made sure that the promo DVD wasn't skipping or being weird as some of the DVD's do when they are in the main player. We blew up balloons, checked to make sure that the endcap signs were in place, checked to make sure that the placards were in place, and then rang up customers. The authors were hopefully due in around 5:45 since the signing was scheduled for 6:00. The clock on the wall ticked to 5:00 and then to 5:15 and then .. .

And then. . .my cell phone rang.

My stomach knotted back on itself as I stared down at the unknown number blinking on the tiny screen. Earlier I'd given Wayne my cell phone number just in case anything happened to delay them, they were coming from quite some distance and that particular stretch of road is just unpredictable at best and at worst, it is quite literally a parking lot.

I ducked into the break room and flipped it open.

Wayne's voice came through nice and bright and crystal clear. But what he said was something I wished I hadn't heard. They were stuck in traffic, and not only stuck in traffic, but stuck in traffic quite a way from us.

There wasn't anything anyone could do, and no one did it on purpose, but when I let the word out that there was going to be a delay, the bone gnawing started. I was in charge of the event, I was the one that had asked, had worked, had pleaded that we be allowed to participate in it and now, the worst possible thing had happened, the stars of the event were delayed. And people, fans, were all ready arriving and all ready irritated that the event was going to be late. They were all ready gnawing.

If it hadn't been for my Mom coming up and laughing at and with me over the delay I would have sat down on the floor and burst into tears. She pointed out with a twinkle in her eye I could either agree with the gnawers, or I could wait with baited breath to see what wonder Christ was going to do.

What I wanted to do was to agree, agree that it was going to be a disaster and that I should never have dreamed of doing something so huge, and that I was a failure and so was the event. It would have been so easy to agree to that, to lay down and allow the chewers just to chew me to bits and be done with it. But along with the giving up part of me roiling around inside, there was something smaller and more determined to bounce up and down on the balls of it's feet, waiting for the King of Glory and the Unexpected, to arrive with His sons and daughters and blow all of my expectations away by doing more than I hoped.

That part of me kept smiling at the irritated and hot fans, kept asking them questions about where they'd come from and who was their favorite, and kept offering them mints and chocolate and reminding them to sign up for the drawing. Mom helped there too, she started introducing people to one another by taking their pictures (I'd asked her to come and shoot the event) and commenting on this one's costume and that one's long journey and all of a sudden these annoyed and disappointed fans began to relax. She pulled the chairs out from where we had them behind the long signing table and people sat down, and started sharing their own tales with one another. How they'd discovered Wayne's books or Bryan's tomes, how they wished Bryan hadn't done this or Wayne hadn't done that with the story. They started reading to one another their favorite parts and talked about how they figured some things out. It didn't matter what age, they were bonding over the stories. It really was marvelous. And a good thing too, because the authors didn't actually arrive till nearly seven o clock. It couldn't be helped but they were almost an hour late.

Oho, but when they did, what an entrance.

Cloaks flowing back from weary shoulders, hands clasping swords, shoes and flip flops and boots clomping along the corridor, they came. Through applause and happy cries they came, laughing and jostling one another and whooping and running right into their waiting fans, they came. They sat down at the table, resting their swords on the back wall on the hooks provided, and got down the business of talking with fans.

I wish I could have lingered around the table and listened, and laughed with them but once they were there, and the signing started, I was pulled in nine or ten different directions. I rang sales up front, I helped people buy books, I answered the phone, and every once in a while I was able to get back to the table to hear something or see something or laugh with someone over something an author had said.

I did get to meet Pais Charos and her nephews who were extremely well behaved and delightful to have about. She made me a lovely bracelet which I am wearing now with my nick-name firmly placed amid blue and purple glass beads. Very striking and handsome. And I made her a 'altered' composition notebook with blue ripped paper and a griffin rampant set in the center. And while we had some time together, it wasn't nearly enough. We'll have to find a way to hang out together when 50 some other people aren't involved.

I did managed to have a few moments with the authors, Christopher Hopper and Sharon Hinck in particular made it a point to leave the table and come and thank me and talk with me for a bit. Poor Wayne and Bryan were absolutely mobbed and were also at the far end of the table where getting out and saying hullo was difficult. However, I did get invited to a 'come and catch your breath and say hullo' thing after ward and I had a lovely time there, when I wasn't 'graying' out from fatigue. And I wasn't even traveling and meeting people like they were!


We sold a lot of books, and had quite a nice turn out there, and I would definitely do it again. Infact, the plan is kinda to do a mini-tour if I can coax Wayne Batson and Brian Polvika to do a 1-2-3 jump from location to location to location in this next signing. Not in one day, though. No, no not in one day.

That's it, that's my take on the event. Oh, but wait, there are 153 photos to be seen as well. That was the real delight of having my Mom there to shoot the event. Some of these are priceless! Here, I'll leave you with this one that I have titled "What have they done with Wayne?!" for a reason. . .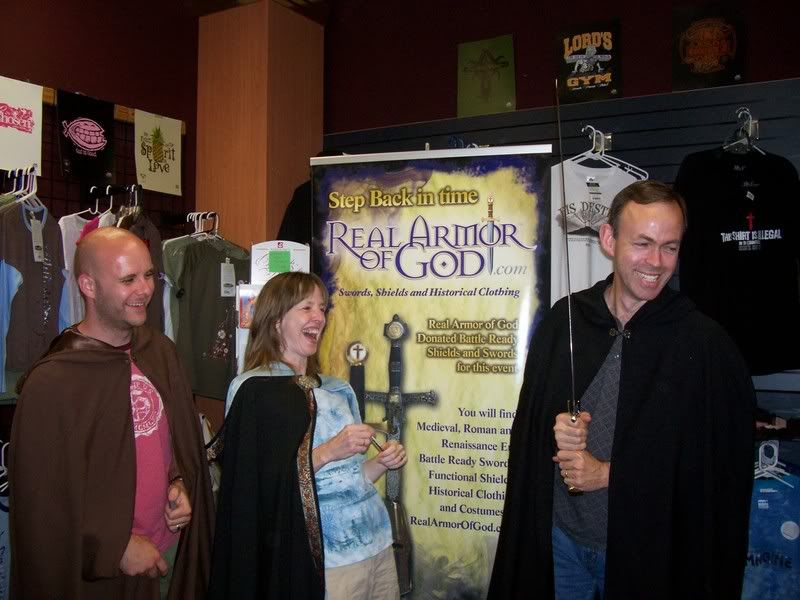 Oh, wait there are these of Sharon that uploaded tonight. *Finally* I'm going to the library tomorrow to load the others. But these are really cool too.