Right well I was too tired yesterday to post, thankfully there wasn't a great clamor and outrage because I didn't get pictures up, and that mainly because I was IMing the pictures to the people that really wanted to see them. And the rest of you breathed a collective sigh of relief thinking "Scribe won't remember that the pictures didn't get posted." Ha. I'm not quite in my dotage yet, thank you very much. For those of you that missed my narrative style in the last post I'll provide some commentary, and for those that were delighted with the lack of words, hush your mouths and your groans or I'll write twice as much!

*ahem*

I got to Tolkien's around 8:00am, still tired and not quite all the way awake. She and her brother weren't quite ready so I sat in the kitchen and ate my granola bar breakfast and watched the pandemonium with a superior smirk. We left her house, the two of them in lovely costumes (darn I didn't get one of Tolkien! Darn those mind-waves of hers!) and I in my new brown t-shirt and comfortable jeans and tennis shoes. We got to Revel Grove around 9:45am, much later than we had at first hoped because the route we were taking also was being used by bikers for a race from 7am to 11am and we crawled along the road, wondering aloud what person had the brilliant idea to use that road during the Ren. Fest for a bike race. The shared conclusions was it had to be some person who hated Ren. Fests and had maliciously and spitefully set the date to irritate the revelers en route. I'm pretty sure that snails past us, that we moved backwards in time, and that children on brightly colored bikes moved faster than we did.

All three of us suppressed groans as we got out of the car and walked up to the ticket center. I was convinced that we'd spend at least half an hour waiting in line for tickets, and that was what we had tried to avoid with the early start, but when we finally got to where you que up to purchase passes there was not a soul waiting. Every one was milling about and waiting for the gates to open but I walked right up to the window and bought my 2-day pass. It was amazing, the delay actually worked in our favor! After I bought my pass I entered the throng waiting for King Henry the VIII to make his royal entrance, and before five minutes past the actors started yelling to one another and it was clear that the gates were going to open momentarily. I was thrilled and so were Aerrer and Tolkien, it couldn't get any better than that.

Here's a snap of the actors up over the door, asking the crowd if we are French spies sent to find out the deep dark secrets of Revel Grove, like the fact that their turkey legs are in point of fact, ham*.



We were encouraged to "push and shove, step on small children, gouge one another if necessary'' to get inside Revel Grove. No, Tolkien, Aerrer and I did NOT do so to our fellow 'spies' but I was highly tempted by the time ten people had cut in front of me. I was ready to smite someone. I refrained.

We opened our revelry with a performance by the King of Swords at the Globe Stage.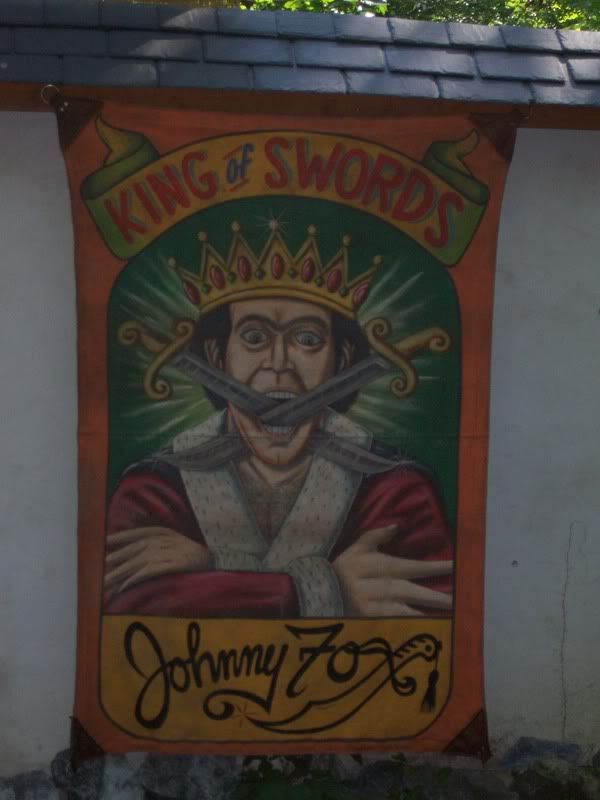 His stage name is Johnny Fox, a huge cry from his real name of John Fox, and I have not seen a man to equal him in terms of showmanship or prestidigitation. The stage was amazing too, it's a permanent structure at the fair and a real work of art itself. Take a peek before I move on to the maestro himself.




He started with slight of hand, giving a wonderful presentation of the old illusion 'cup and balls' and went into some history of the trick as well as showing us how he was actually fooling our eyes. He was so amazing, I've found few performers who can teach while they entertain and he is one of them. Here he is, ''bowing with a flourish'' after his cup and balls routine and his rolling coins across his knuckles.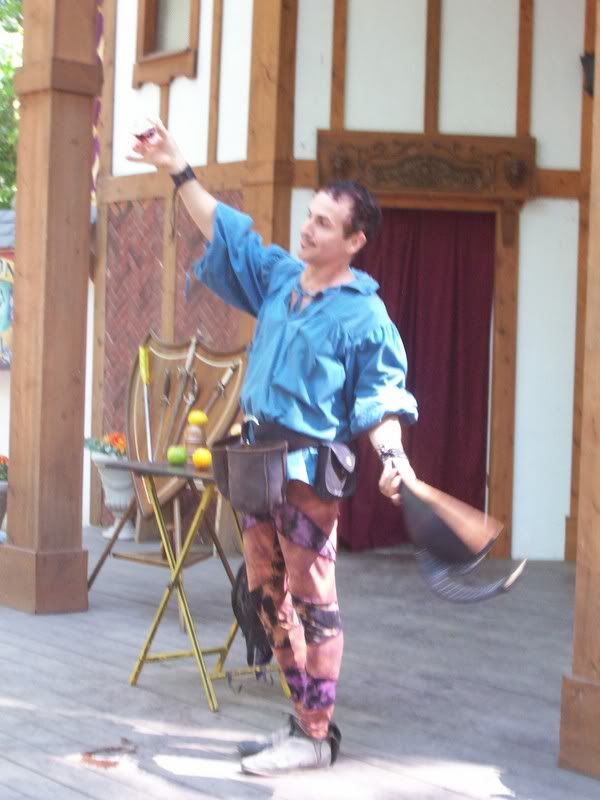 The only other shot of him that came out is one at the tail end of a sword swallow, taking pictures of him was like trying to take pictures of a puma, not something that my camera can do well, but take a look, I was in awe.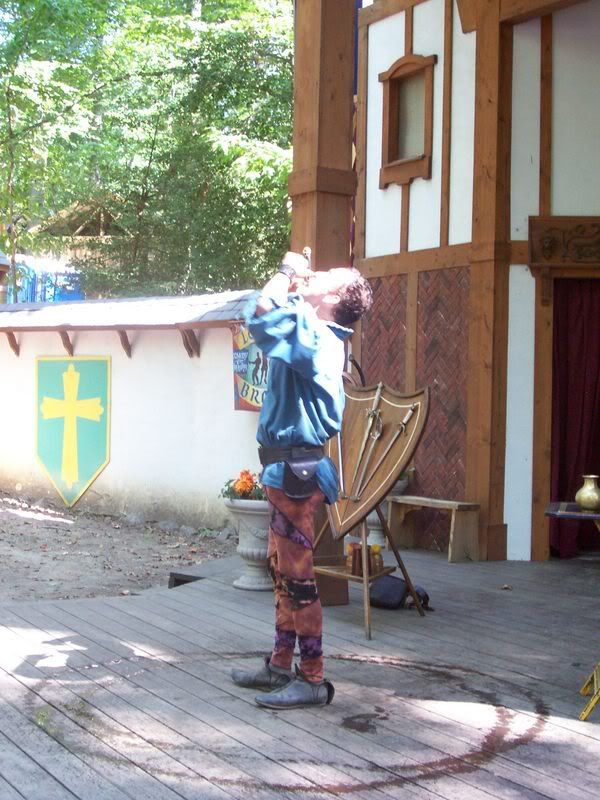 The wet around him is where he continually poured the wet from a small vessel sighting that it was to 'protect him' and it was 'water from India'. He did this repeatedly throughout his performance though he never refilled the jug--a trick within a trick--and when people would yell out from the audience where the water came from he'd grin and go "India." From Johnny Fox Aerrer, Tolkien, and I wandered for a bit. I think we might have grabbed lunch at that point, and then we walked about, Aerrer trying a variety of games and winning a token for a free soda, and Tolkien and I window browsed and admired all the things we couldn't afford. I also strove to stay away from the bag pipers there as it was Celtic weekend, and I don't care for the bagpipes that much. Half way through the afternoon I realized we were being stalked. By mimes.







So, after we ditched the mimes, we moved down to the Joust Area for the afternoon show, and I sat and held seats for Tolkien and Aerrer and watched the last half of the archery demonstration while he tried more games and she looked for water. It was brutally hot. Here are some of my best shots from the Joust which is for me, the highlight of the whole day.



There they are, all together and getting ready for a serious rumpus.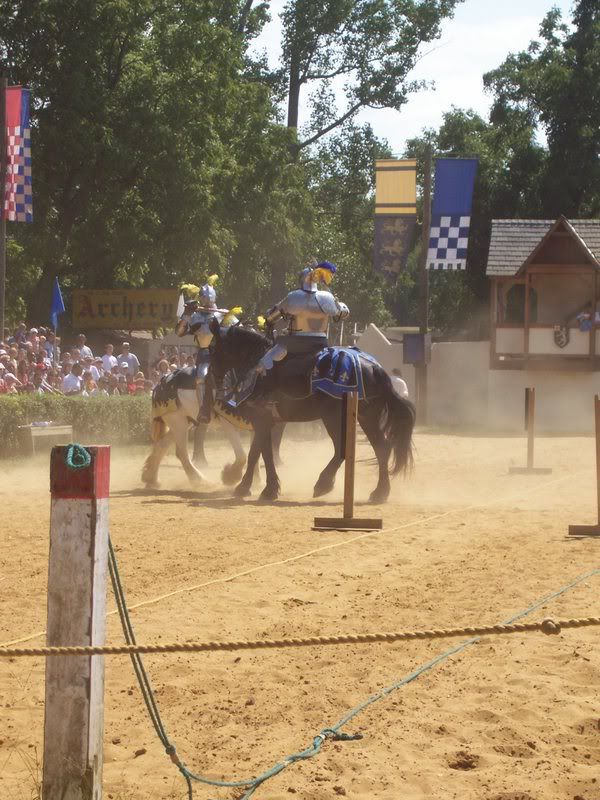 It was over 90 degrees in the shade that day, and each of these riders is wearing roughly 100lbs of armor, and guiding a heavy draft horse while hitting another knight with a long wooden club. Again, I was in awe. I kept holding my breath!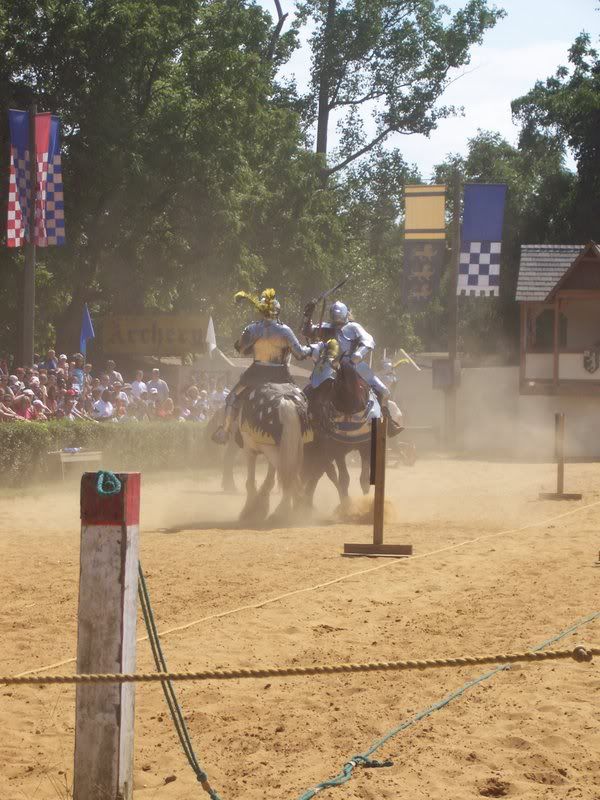 Did I mention that it was hot? And dry? I don't know how these modern knights did it, I was baking sitting in the bleachers and wearing my t-shirt and jeans!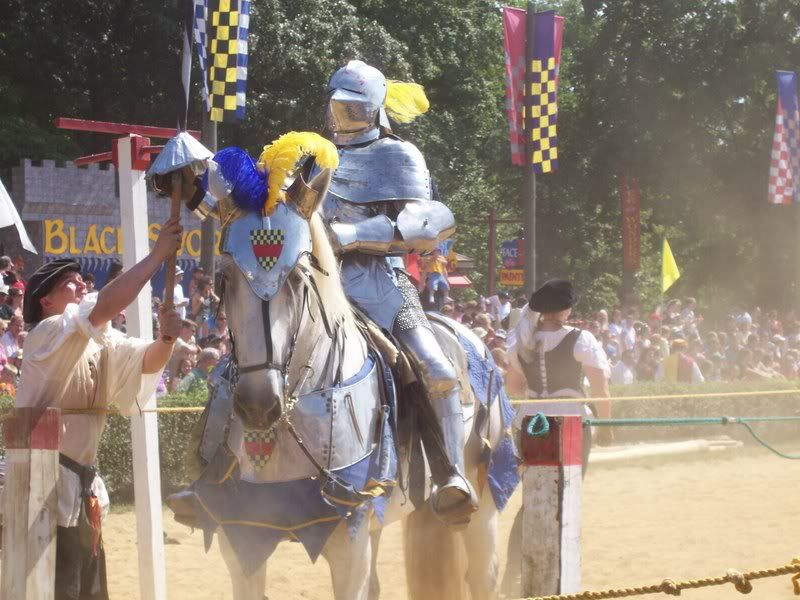 Then, the jousting started in earnest, and the shots below are some of the best I think I've ever taken, they are the treasure that I took from the Festival this year. They made my being pretty much too poor to buy anything but a mug seem like not so bad a thing after all.
All time favorite photo, I'm thinking of entering this one in some contests.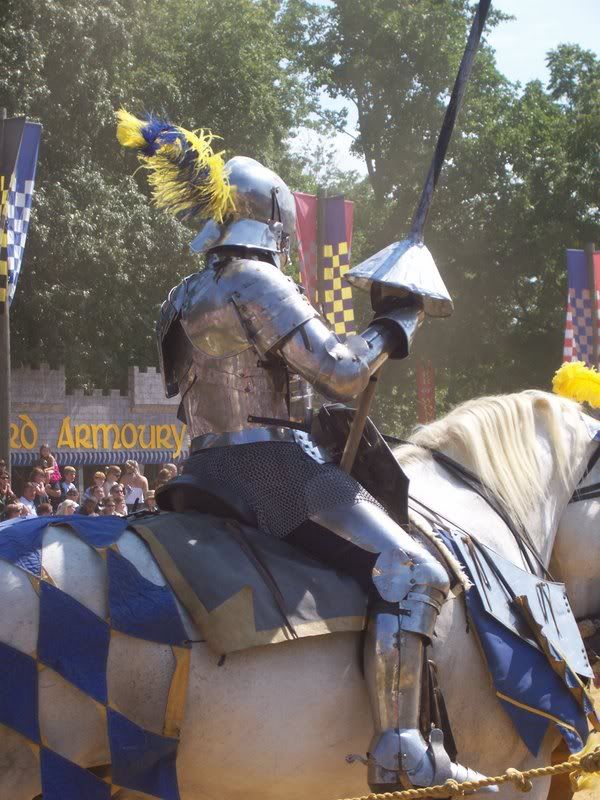 This one too, I like the light and the movement in it.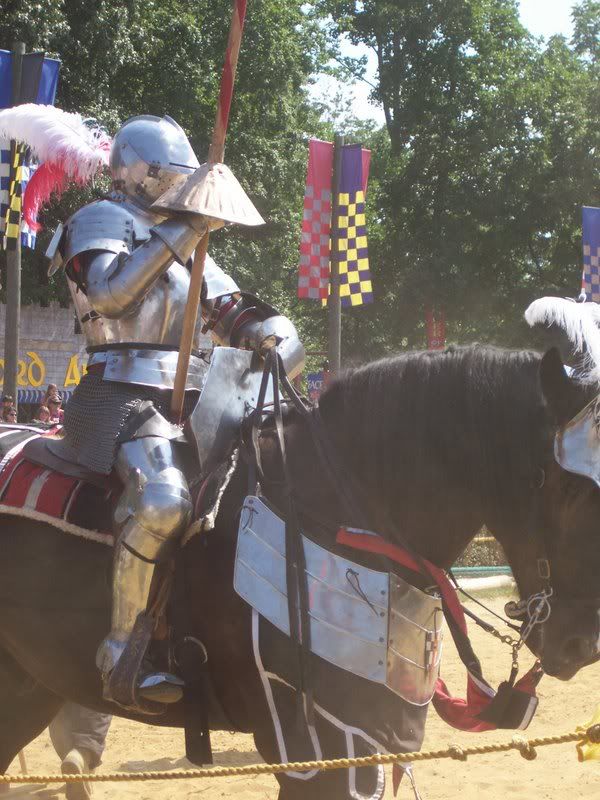 This one would have been another favorite if not for the dust! It was sooo dry!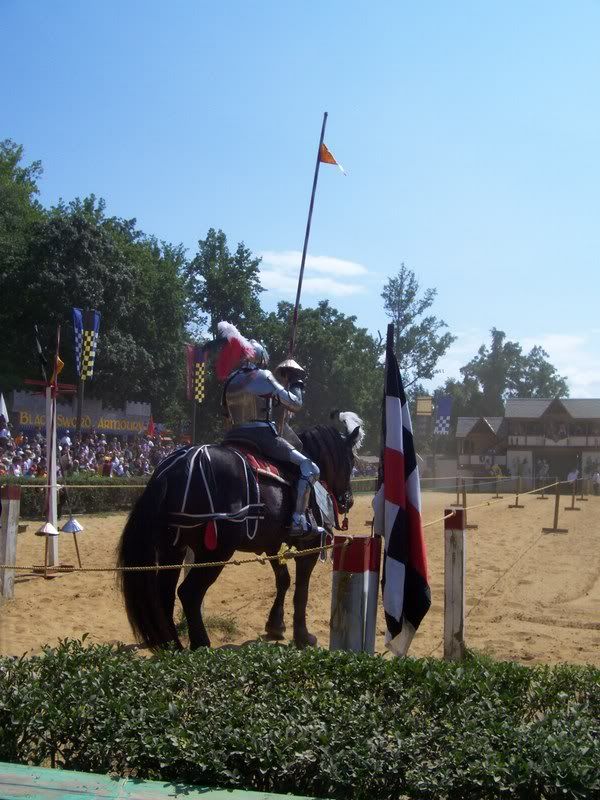 Last one, I apologize to my readers with dial up, but I promise they are worth the wait. Now to hie me home for dinner, I've been at the library working and using the high speed connection that they have to get this all posted. Until I post again I remain as always your humble ~


Scribe

*Turkey Legs are in fact legs of turkey's